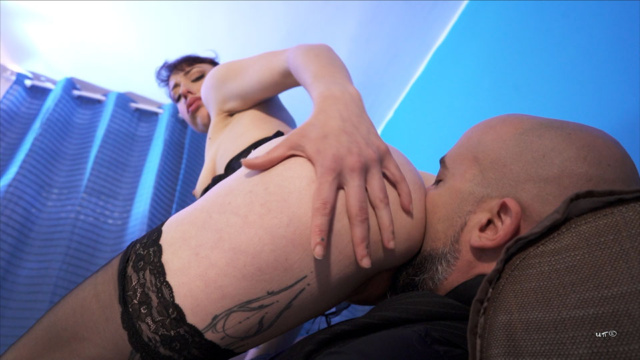 Andy is a weird TV frontman for a cooking reality program. He was a one hit wonder rockstar when he were 18 years old and now he reached celebrity again with that contest. Nemesi is an Italian chef taking part in the contest. She was eliminated in the preliminaries selections of the program, without any good reason. The man decided to give her a second chance. He is the Supreme Judge in the contest and he can decide to continue some candidates, at his irrevocable will.
He is in Nemesi apartment, she'e dressing chef uniform, black one, but the judge asked her also for sexy lingerie and not to wear any shoes. She understood the shoes matter, as he doesn't wanna appear shorter than her (as he is), but she really didn't understand the lingerie. Anyway she is willing to do anything he asks to obtain a second chance.
Andy asks her what is she cooking, she answers "sushi but Italian style". The man suddenly comments she is doing something incorrect. She asked why, so he answers too many things are wrong, but he can starts from her outfit. He gets closer to her and rudely opens her uniform to show her lingerie, arguing a woman chef must show a little bit herself to clients. It sounds so weird and wrong to Nemesi, who is realising the man wants something different from her, to have a second chance.
Now Andy gets too much close to her, from behind, almost touching her ass with his dick, while he is pretending to instruct her from back preparing the sushi. She is more angry and she explodes when he takes her back and push down, as to bending her over for a doggystyle. Andy whispers: what's the problem ? Nemesi answers: maybe the distance between you and me…
The girl now find a smart way to overcome the situation. She turns around and proposes the man to try her sushi. Nemesi is sure he is gonna changes is mind. As she gives it to eat, the man seems astonished and petrified…
The scene reopen with Nemesi bring Andy into the leaving room by hand. He orders him to lay down on sofa. The man seems completely without any will. Nemesi is gonna have her revenge. She knows her dishes can produce a mind control effect, so she used on him, to block him and humiliate him in the proper way. She touches his dick through panties, then she undresses and puts her cunt on his face, initially without remove panties.
Nemesi now removes her panties, then she heavy sits on Andy's face. She is smashing his nose and face, smothering him with ass. orders him now to put out tongue and lick her asshole. She is so fucking dominant now, yelling him to put tongue deep inside her asshole. He is humiliated, licking her asshole like a servant, but he cannot oppose resistance and executes it.
Nemesi is loving the rimming action, so she becomes crazy and put ass on his face harder and harder. The most humiliating thing for the man is the fact his dick is hard. He cannot hide he is getting excited to be submitted from the girl. She now takes his dick and brings him close to cum, with handjob, just to enjoy make him suffer when she stops. She repeats that again and again. Then she turns around and orders him to lick her cunt. He is smothering but she doesn't care, as she is enjoying that too much. She orders him to touch his dick in the while.
Finally, Nemesi asks him is he is gonna take her in the program; he obviously answers YES! She has no doubt, as she is in charge now, that arrogant bastard is gonna be his puppy for the rest of his miserable life. A slave ruled by his Mistress Nemesi. He's her perfect ass slave.