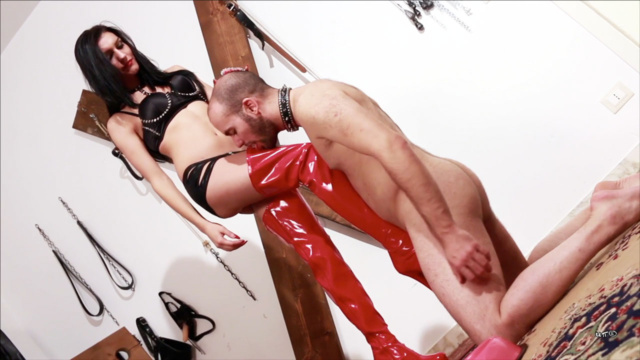 **English Subtitles Only On Request**
Mia is owning his personal slave, training to obedience to her. She's so fucking HOT, her personal slave in front of her on his knees, collared.
Today exercise is to learn how to fuck Mistress' boots, instead of privileged men, that could normally fuck her. He is a loser, he could only fucks her boots and he musts be happy too. He has got a pet bowl in front of his dick, to cum inside it without messing Mistress' dungeon. She first teases him on his balls and dick with her boot, then she allows him to put his dick between boots. When she understands he's not gonna cum, she decides to make him lie on floor to give him an handjob. What could appear as a special permission for a bad behavior, reveals however as a trap for the slave. Mia jerks him giving him all the pleasure an handjob could offer, with her ass closing his nose and mouth.
Such an intense pleasure turn easily in a REAL TORMENT. When the man is cumming, she continues jerking him, especially on dickhead, to ruin his orgasm. He produces noises and he cannot help but receive the special treatment.

Mia sta addestrando il suo nuovo schiavo personale. Lei è fottutamente sexy, ed il suo schiavo personale la aspetta in ginocchio, col collare. Il compito di oggi è imparare a scopare gli stivali della padrona, invece degli uomini "normali", che potrebbero ambire a fare sesso con lei. È solo un perdente ed il massimo cui può ambire, è fottere gli stivali della Padrona. Ha una ciotola per cani di fronte al cazzo, la venuta finale. Dovrà venire lì dentro e bere il suo sperma senza sporcare minimamente il dungeon. Prima lo stuzzica col tacco, sulle sue palle e sul cazzo, poi gli permette di infilarlo tra gli stivali.
Quando capisce che non sborrerà, decide di farlo stendere sul pavimento per farlo finire manualmente. Ciò che potrebbe apparire come un concessione speciale per un comportamento pessimo, si rivela tuttavia come una trappola per lo schiavo. Mia lo sega dando lui tutto il piacere che un handjob può offrire, seduta sulla sua faccia a tappargli il naso e la bocca. Un piacere così intenso si trasforma facilmente in una VERA tortura. Quando l'uomo viene, continua a stimolarlo soprattutto sul glande, per rovinargli l'orgasmo. Lui emette versi di animali e non può fare a meno di subire questo trattamento senza opporsi.