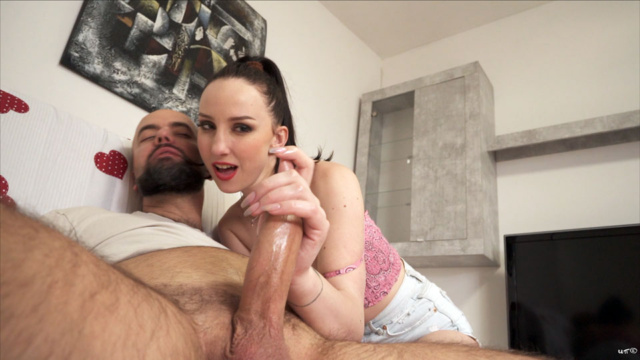 Andy and Bella parents get married old age, so they become step-brother and step-sister very late, Bella was 15 and Andy 35 yrs old. Bella is living with Andy now, they are 18 and 38. Bella was always been trying to seduce Andy, as she has a thing for him. One day she comes back from shopping, while Andy is relaxing on sofa, deeply. She whispers two times his name, but he doesn't answer. So she laugh and come closer to him, touching his dick inside his panties and then kissing it.
Andy wakes up and he is astonished. Bella argues she would do that since their parents get married. Now Bella is pulling out his dick from his pants, that is already hard. She gently touches it, with her cute teen hands, long nailed manicure, while Andy has got a blessed expression on his face. She laugh as her stepbrother is so fucking excited from her. Then she makes him taste a little bit of her soft feet on his dick. The man is becoming crazy.
He is so fucking close to cum, so she stops it and continues with hands. She also licks the top oh his dickhead, to test his reaction. He is desperately craving to cum, so she stops again, taking again with a soft gentle touch of her hands. She makes him feel every inch of her hand skin, as her long nails on his dick. Finally, she takes oil and covers his dick with oil. Now she's using both hands, grabbing his balls and the base of dick and jerking with the other one, concentrating on dickhead.
The man is fucking mad. He wanna cum as he also knows that the control is all in her hands. When she tells him to cum, he explodes a massive cumshot all over his belly. Bella milks every drop out of him, then licks sperm from his belly, while he is shivering in pleasure and tickle.