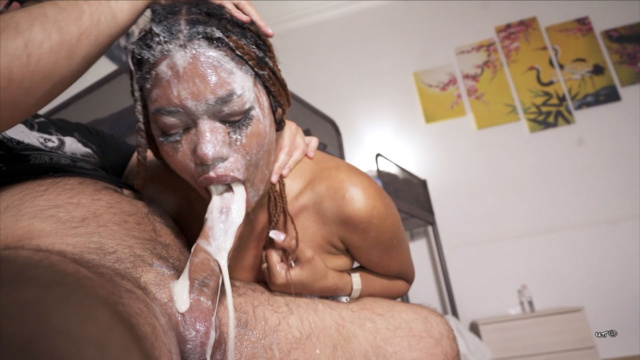 Andy is a travel blogger. He had success on social media, but has no experience, as he is an asshole, always ready to downgrade places he's visiting. In his last trip in Italy he booked an hostel. This is actually a cheap place, bunk bedroom with common bathroom. There is a king-size bedspring on window, cheap furniture. Nothing better for a carper like him. He starts doing his usual videos, remarking all room problems. Then he climb the bedspring and stop the camera.
Andy turns again on the camera, now compelling about the fact the apartment is not in city center, like advertise said. He is about to continue, when a fucking AMAZING GORGEOUS latina black girl enters the room. He start catcalling her, annoying the girl with the camera right on her face, looking up and down her. She doesn't understand a word, as she speaks Spanish, but she is really upset and pushes the camera away from her.
Andy turns on again his camera and now he is misbehaving as usual. The girl is naked, relaxing in the lower bunk bedroom bad. Andy is commenting her amazing body, then he removes the blankets from her body and he shows her amazing GORGEOUS perfect body to camera. When he is about to touch her tits, the girl rises up against him and throws out him from the room. Andy turns off camera again.
Andy is now thinking to cheat the girl and leaves the camera running on a night table.
The girl enters again the room and Andy faces her. He claims she stool from him something. SARA is not understanding a word, but Andy insists indicating the camera and finally she understands he is charging her for theft. He continues trying to explain her that police is on his phone. She has 2 choice: or a search of the police station, or she'll let him search it. The girl doesn't understand a word and only say "no". Andy insists she hear from Police, maybe they can explain it in better to her. That is a way to cheat her: as the girl put the phone near her ear, she smiles and turns into good willingness slut. The man used a mind control musical program, to control her mind, making her believe she wants to be her sex slut.
Sara (that is the name of the girl, is now undressing herself. Her body is fucking amazing, big dick sucker lips, amazing bubble butt, soft, big and rounded. Small precious tits, she is a Latina Black Princess. Now that Princess is gonna be a street cheap slut. Andy orders her to suck his dick on her knees. As he is ready for hardcore, he puts her head upside down. She throws up all over her face, while Andy fucks her face hard and her throat deep. She is amazing, black skin all covered in white. After a while, the man sits on chair and makes her suck his dick beside him, using her head and mouth at his will, while she continues to suck and throw, smiling like a dummy even when she is getting sicker and sicker.
Andy finished with deepthroat and facefuck, but now he is ready to open that virgin asshole. So it is… he realised that asshole had never been used. As the girl is mind conditioned, she always say "yes", but it is crystal clear that it is painful for her. Andy is a pervert, when her realised that, he pound it even harder. The girl alternates to scream and cry out for pain, to smile for her mind control. That is a PAIN in the ass for her, but she wants to continue at same time. Andy fucks and spreads her holes different position, also using her like a furniture, fixing her chest through to chair too. She is a human fucking forniture.
At the end Andy orders her to licks his balls again, then he cums all over her tongue and mouth. She is disgusted inside, but she smiles again !!