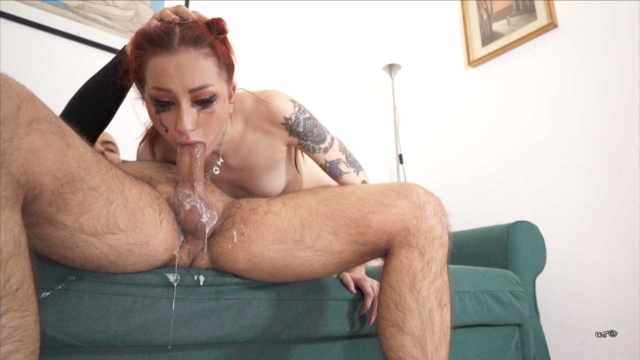 Gigi is a barely legal 18 yrs old student from UK, doing cultural exchange in a foreign country. She found a big house in city center, she can eran money to rent it from her English lessons.
Andy is one of her student. He is a 40 y.o. police officer, studying higher English level to obtain an important promotion. He is close to do the exam, so on Monday Gigi decided to give him a test, simulating the exam.
Gigi has got a thing for Andy, he is older, he's an officer, he is the kind of man Gigi like. When Andy enters her house and sit on the sofa, she gives him the tests book. There is no more table in the center of the room; Andy tells that as it is uncomfortable to write on sofa. She doesn't answer and said him he has 30 minutes for test.
The girl sits beside Andy, removes her shoes and starts to tease him with foot on his leg. When he asks for explanation she said she simply wanna play a little bit. Andy argues he has got a wife, but she promptly answer that she knows he does't care too much.
Andy is a crime investigator in the police office and he is also a mentalist. He draws something on the test book, then he said he's ok to play with her and shows her the draw. The girl first thought he is weird and doesn't understand what is meaning to do. While she watches the line inside the book, she seems mesmerised, her eyes becomes empty. Andy takes control of her mind: he wants to play sure, but at his rule and without Gigi could remember anything, so he can be 100% safe from blackmail.
Andy orders Gigi to undress, while he is doing the same. Now he orders her to get on knees and suck. She does and Andy has promptly a rock hard dick. He becomes mad watching that slutty, pretty and young face with his dick on. He rubs all over her face, after he gives her first deepthroat straights, and a tear appear on her face.
Now Andy fucks her throat and mouth at his pleasure, so hard she has veins blowing on neck. He orders her to get on sofa and he deep throats her all way down. The girl probably never did it, her eyes are open wide, astonished. Andy is brutal, he slams her head down with hand, also with legs. He makes her smother on his dick, without allowing her to take breath, he use her mouth like the worst sex toy.
He takes fun counting strikes, as time she hold it down, always tricking her on time and number of strike to reach. She vomits and gets sick, as her makeup is flowing with tears from her eyes. He humiliates her in all possible way, also rubbing her face on his balls, soiled with vomit: she musts also lick it from balls.
He alternates upside down head position, to skull fuck beside him. Finally he fucks her throat again on knees, ordering her to look at him all the time, till he finally cums inside her mouth and throat, and she musts swallow all. The girl is just like a broken toy at the end.