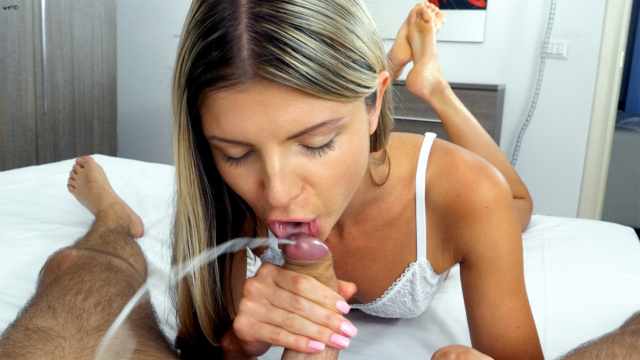 Andy has got a gorgeous step-daughter. She is a beautiful sexy skinny teen. He always had got particular thoughts about her… also he compel himself from years, not to make it appear to people and especially to her step-daughter. Gina, that is her name, understood it in any case and she teases him all the possible ways. Maybe it is just a bratty teen fantasy and nothing happened for real.
Usually dreams cannot be controlled in any case. One night, he'd dreaming about… a lesson to her step-daughter. He's teaching her how to suck a dick. She is amazed having a dick growing up under her touches and cock kissing, licking, sucking. He's imagining her in white virginal lingerie, while she is slowly sucking his dick, kissing it and licking it like a candy or ice cream. She is doing it like first time, playing and maliciously sucking him. She edging him all the time, keeping him always a step before cumming. That is a pervert, filthy and unspeakable fantasy…
At the end, Gina ruins his orgasm, blocking his cumshoot with her tongue urethra hole with her tongue while sperm is gonna explode outside. He is feeling pain and pleasure at same time, when she allows a HUGE cumshoot to cum out like a fountain.