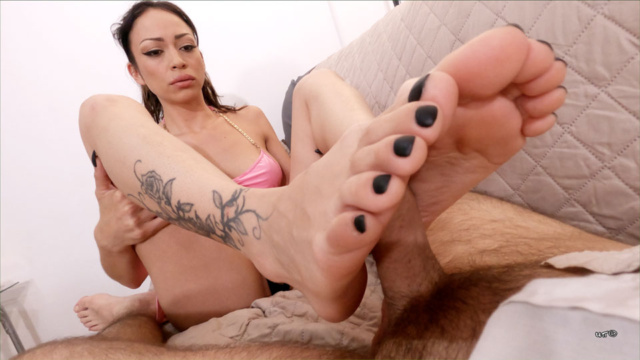 Noa is a young sexy latina secretary, is a dentist studio. She finished work earlier, the doctor cancelled the last appointments by mail, for a seminary. She is on phone, talking with her friend Dafne, about a disco party they're having in a few.
A new customer enters the room, taking Noa by surprise. He is the 19.00 appointment; it seems he has no mail communication for the appointment changing. The situation is turning in a while in bothering problem. The man talks loud and gets nervous, claiming he has no communication and he wants the doctor. He adds Noa has no uniform… strange, he has got a vicious look in his eyes. He stands up, getting closer to Noa, when he pushes her to wall and tries to kiss her, while he touches his body and tits. Noa pushes him away with a disgusted expression on her face.
The man excuses himself, while Noa is visibly nervous. He sits on sofa and the girl on a chair in front of him. He wants to obtain another appointment. Even thou the situation is even more weird than before, Noa accomplish his request cause she is frightened and she wants to free herself. They agree for next Monday, in the morning. Now the man claims he has difficulty programming his phone calendar, and he gives his mobile phone in her hands.
Andy (that is his name) has actually targeted her from a long time, as he has got a thing for that sexy latina secretary, especially for her sexy arched feet. He premeditate to come on that time, as he saw the mail for appointment cancellation.
Now the girl watch the phone and freeze her gaze. The phone is running a mind control program, that makes her now completely in his power.
Noa is now dressed like a stripper. The man ordered her to put on dancing sexy dress, she has for dance night. He has got her barefoot in his hands, licking it with craving. His dick is hard in a few. Now he orders her to jerk his dick with her feet. He makes her change position, alternating toes job to footjob. Andy is becoming mad, more and more excited to realise his fantasy with her, without any limitation. He orders also her to moans like she is fucking with him. The girl moans and jerks. That is the time to fuck that perfect soles and feet. He orders her to lay on sofa, exposing her feet on back. Then he puts his hard rock dick between her arches. He fucks them and licks them, sucking her toes. He can do all he wants, and he does it.
Andy orders her to get on knees in front of him, to lick his dick from bottom to dick head, without leaving any centimetre. She licks balls too. Then he makes her lie on her back on floor, cause he wants to fuck her feet again. He puts inside arches again, then between her soles. That is so FUCKING hot. He watches her perfect arched LATINA hot feet, while he fucks them hard.
At the end, he puts her feet and soles right in front of him, to cum on it. He fucks her feet for his pleasure all the WAY !!