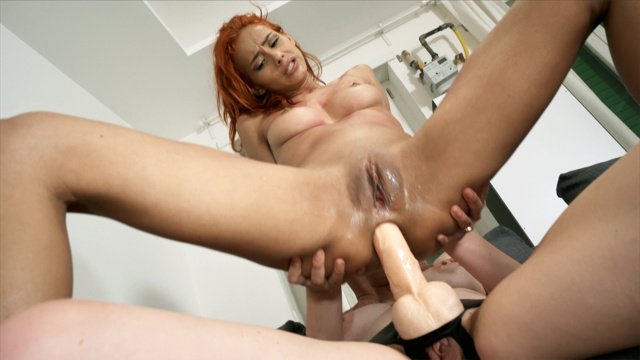 Andy is a director in a jail, and also teaches to the detainee. The director catches red handed 2 of his inmates, Veronica and Kira, doing lesbian sex in bathrooms. That is strictly forbidden in jail. He interrogates them and Veronica Reported Keira to avoid THE HOLE. Keira did one month in punishment.
The scene start with the director calling them both, 30 days later from the facts, in his apartment into the jail district. He wants to punish them both, but also wanna teach Veronica to behave inside his prison. He's having a traffic with Keira and he doesn't want Veronica to report them in future. Also… he would enjoy the punishment for real. He will make become the bullied girl, the punisher !
First comes Keira and she is continuing denying all. She isn't stupid, she's actually smart. She knows the director wanna test her. Then he calls inside Veronica, and she is still having a bully attitude, continuing to report Keira giving her all the responsibility for the situation. The director does a second test: he strips Veronica in front of Keira, touching her perfect body in front of her lover. Keira is impassible, so finally the director gives her the chance to have her vendetta. Keira could now admit she is lesbian but… Veronica was the first to flirt with her… The director doesn't care at all about the truth, is only a matter of loyalty.
Andy proposes Keira to have her vendetta on Veronica. He knows Veronica has a dominant attitude and she has a misandry and dick hate. So now she is gonna take a huge dick up her ass!! Veronica pretends to be aroused at beginning, but Keira wears a 25 cm strap-on and fucks Veronica's mouth and ass. The director asks her to do it harder and harder, deeper and deeper. Despite Veronica is suffering, he spurs Keira to take her vendetta. Keira is so sadistic that she does't care her lover is suffering, but she left a sardonic smile and a very active attitude, destroying Veronica's ass.
In the end the director makes her suck his dick, then to wash that dirt from her… he takes her with Keira to bathroom to flush her head and face clean.