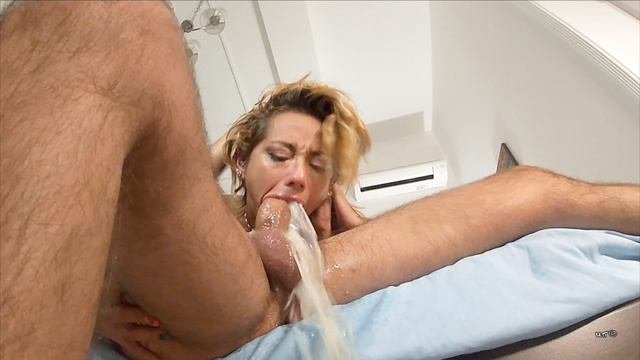 Veronica is a feminist, lesbian, snobbish and extremely rich activist. She has to be interviewed for an article by Andy.
Noa is Veronica's girlfriend and they don't see each other from a long time. Veronica role takes her away, travelling through continents, and Noa is still searching a job and house to stay, in their native town.
The first day Andy, Veronica and Noa meet for dinner. The reporter wanna take the exact moment of their reunion, to interview Veronica about her new job. During dinner, Veronica behaves contemptuously towards Andy. She talks to Noa all the time and doesn't take the journalist into consideration. Between the two there seems to be something from the past. Andy has always had a thing for Veronica. In a recent past, she granted him some sexual dynamics, in which she dominates and humiliates him in an explicit way, keeping the video. Andy was cheated on this point.
Veronica shows the photos/videos to her girlfriend during dinner and laughs at Andy. The man is visibly upset and apparently leaves the room, to go to bed. Actually he hides himself to spy the girls. Veronica kisses Noa and brings her into the bedroom. As the girls are unaware of his presence, the man introduces himself in the bedroom, putting a pair of headphones on her. The headphones are connected to his cellphone, as he is running on a mental control program. Veronica opens her eyes looking right in front of her, with a robotic look in her eyes.
The next morning Noa wakes up and enters the living room, when she find out Veronica on her knees, sucking Andy's dick. The girl is emotionally destroyed, and asks Veronica what it's going on, why she is betraying her, with a MAN ?!?!? Veronica turns around and answer: "Now I understand I'm just a stupid slut. I learned that I was born to please men. Only this, in my life… and this is how I want to be.". It is evident that Veronica is now mind controlled. Andy now blackmails Noa: is she want Veronica come back to normality, she must do all he wants, without any objection. Then he brings Veronica all four in their bedroom, to fuck her face and use her, without Noa being in his way.
The scene opens with Andy on bed, touching Veronica that has again an empty gaze. He orders her to apologise for the last evening behaviour, then he gives her his dick to SUCK. Veronica takes his dick in her mouth, as Andy starts to push her head down on dick. Then he lays on bed and makes her sucks his balls, like a sex slave. When he gets enough of that, he orders her to get on knees beside him. He now fucks her throat and skull, deep and rough as HELL. She has got her veins blowing on her head, for the efforts, but she cannot stop sucking it deepthroat. The man alternates deep and hard strokes, to crazy face fuck.
Veronica gets sick and drools like a real cock craving slut, asking him to do it harder: so intense was the mind control. Now the man orders her to get her head upside down on bed edge, so he can fucks her skull and throat even harder. Veronica is smothering on dick and she is gasping and suffering, touching her throat for pain and vomiting on floor herself, for the disgust. Andy is crazy at that sight, so he orders Veronica to get on knees beside him again. This time is gonna push all her stomach liquid out. He fucks her throat roughly, when the woman begins to vomit. He doesn't stop and keeps fucking constantly deep and hard her throat. Veronica is now annihilated and she keeps doing that till she gasps in her own vomit.
The man has now enough, he is satisfied of the treatment he reserves to her, so he orders to get on knees in front of him to cover her face in sperm. He covers her face with a bulking CUMSHOT, that is covering her mouth and face. Veronica is happy like a silly SLUT for the treatment, as Andy turns her into a stupid sucking SLUT for real !!