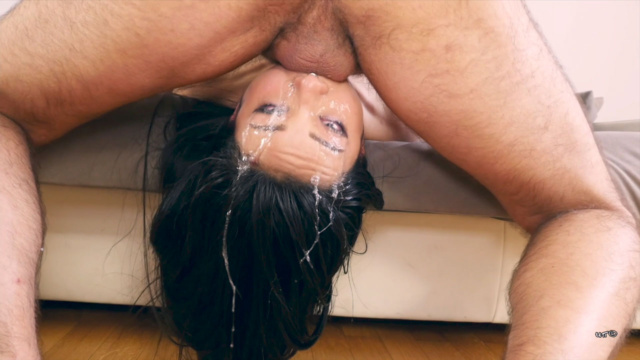 Rae is a super-cute newbie from Japan. She is 21 Y.O. ehibistionst. She did her first private video with her boyfriend at 17 Y. O. !!! Her first public 4 months ago. She watched on porn websites Unchained Perversions videos, so she finally decided to try a new experience with us. She would TRY for the first time an extreme deepthroat because, she said. Rae is not so experienced in deepthroat action and she would always try something different. Definitely she is an hoe slut.
I love that !! They are unaware what's gonna happen to them.
Rae told me she is good in deepthroat and she is not gonna puke in the video, because she is trained in private life with BBC. I was inwardly laughing…
I make this young slut sit on knees and, to begin in a proper way, I blocked her hands on back with handcuffs. She is so happy to start, but I make her immediately understand she is not gonna have an easy-peasy with me. I make her lick my balls with her face and nose smashed on them. Then I strip her. She's now naked, but still unbroken.
NowI remove the handcuffs, then I make her lay on sofa. In this position I sit on her face with my balls in her mouth and my ass on her pretty little nose. In this position I start touching her body, compelling her to open legs and touch her pussy. That cause unexpected annoyance in this small asian cutie.Then I continue doing that, to pass then to a REAL hardcore action.
I stuffed my dick in her mouth roughly and without respect. This bitch seems to be an hard nut. She had got a completely passive attitude, but at the same time she initially seems not to suffer the fast and deep fuck. Till I start to push her limits and try how deep could be such a small mouth and throat. And I find out it is very deep. I start fucking her mouth deeply, penetrating it like a vagina. She starts flowing drool on her pretty face, with hate expression in her eyes.
I change position and I start pushing her head all down cock with my feet, leaving no possibility to her to come up with her head. I push her head down for long time, and many times. Finally Rae submits to my will and pukes all over the floor. Then I start fucking hard and deep again and again. I alternate long pushing to deep fuck. That asian doll is simply amazing, cause even if she isn't so experienced, she is by now one of the most skilled in deepthroat. Rae swallows dick ALL THE FUCKING LENGHT DOWN. She is also able to keep the cock pushed inside throat for 20-30 seconds to 1 minute, each time, one after another one.
Rae maybe now learns what's the meaning of an hard deepthroat session, Unchained Perversions has got a new starlet !!!