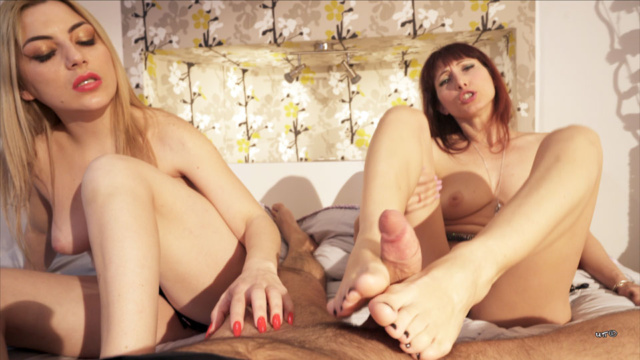 **ENGLISH SUBTITLES ONLY ON REQUEST**
Dominique is tired of her lover Andy. He has been promising her for months he wants to broke with his wife Sofi, without actually doing that.
One day, while they are sitting on the couch, she openly tells him that the situation doesn't satisfy her, that she can't go on like this anymore. Andy ignores her on the cell phone, while the woman becomes more and more altered. He justifies himself by saying that he is having a business conversation, but she doesn't believe him, she knows that he is texting with Sofia. Andy keeps pointing out to Dominique that his wife is too rich and powerful to leave her without consequences. Andy gets up and leaves, seeing that the woman doesn't listen to reason, and giving again the excuse of work. However, as soon as he left, Dominique called Sofia.
Sofia and Dominique are actually two longtime friends. Dominique is about to play a double game, revealing the relationship to Sofia, but shifting attention to a seemingly insignificant detail: Andy is obsessed with her feet. Dominique knows her friend, who has actually suspected the relationship for long time. Sofia gets very angry at the revelation of the fetishist side at same time. At this point, the two girls are again in team, ready to make the man pay, each for a different reason.
The following day Dominique calls Andy back home, saying they'll play one of those little games he likes so much… Once in the bedroom, Dominique blindfolds Andy, telling him that today he will lick her feet just like a servant. Andy actually hates being treated like a slave, but he actually has a thing for feet; with perplexity, he waits to understand how the situation will evolve and plays along.
While Andy can't see, Sofia enters the room, takes off a stocking, then climbs onto the bed and starts making Andy suck her foot, first the toes, then the soles, then the whole foot… Andy believes until now that she is actually Dominique, who is talking to him beside Sofia. When he feels her foot pushed down his throat, he realises that something is wrong and unbandages.
Sofia reveals herself to Andy, who is amazed. The man then looks at Dominique with contempt, because he thinks he understands what happened. At that point Sofia tells him that now he will be a good servant, worshiping and licking both's feet. Andy initially refuses categorically, he hates feeling controlled and hates orders. Now Sofia blackmails him: if he doesn't want her to cut off any kind of financial support, he must behave like a good slave. The man must obey… but while he licks feet he gets an erection. Sofia says how much a stupid fetishist he is, getting excited about their feet.
Now the two women are footjobbing Andy's cock, which is soo hard. As a form of humiliation, Sofia continues to moan like she's having sex. She wants to humiliate him doubly, keeping his erection simply with her feet. Also Sofia shows him that she has always faked her orgasms with him. Dominique does the same, but he's such a jerker that he stays rock hard the whole time.
In the end, after a heartbreaking tease and denial, taking him on edge for cum, with his cock and balls aching in holding back the cumshot, Sofia allows her husband to cum on her feet, while Dominique licks the feet and cock like a slut, until he covers Sofia's feet in cum and Dominique cleans it all up.

Dominique è stanca del suo amante Andy. Lui le promette da mesi di voler lasciare sua moglie Sofia, ma in realtà continua a posticipare.
Un giorno mentre sono seduti sul divano. Dominique gli dice apertamente che quella situazione non la soddisfa, che non può piu' andare avanti così. Andy la ignora al cellulare, mentre la donna si altera sempre di piu'. Lui si giustifica dicendo che sta avendo una conversazione di lavoro, ma lei non gli crede e sa che sta messaggiando con Sofia. Andy continua a fare presente a Dominique che sua moglie è troppo ricca e potente per farsi lasciare senza conseguenze, per lui e per lei. Andy si alza e se ne va, vedendo che la donna non sente ragioni, adducendo ancora la scusa del lavoro. Dominique però, appena lui è uscito, chiama proprio Sofia.
Sofia e Dominique sono in realtà due amiche di lunga data. Dominique sta per fare il doppio gioco, rivelando la relazione a Sofia, ma spostando l'attenzione su un dettaglio, apparentemente insignificante: Andy è in fissa coi suoi piedi. Dominique conosce l'amica, che effettivamente sospetta da tempo della relazione dei due, ma che allo stesso tempo si arrabbia pesantemente per la rivelazione. A questo punto, le due sono di nuovo in sintonia, pronte a farla pagare, ognuna per la sua ragione, all'uomo.
Il giorno seguente Dominique richiama Andy a casa, dicendo che vuole fare pace. Aggiunge che faranno uno di quei giochini che gli piacciono tanto, per farsi perdonare. Una volta in camera da letto, Dominique benda Andy, dicendogli che oggi leccherà i suoi piedi proprio come un servo. Andy odia in realtà di essere trattato da schiavo. Ma ha effettivamente una fissa per i piedi: attende di capire come evolverà la situazione e sta al gioco.
Mentre Andy non può vedere, entra in stanza Sofia, che si toglie una calza, poi sale sul letto e comincia a far succhiare il piede ad Andy. Prima le dita, poi le piante, poi l'intero piede… Andy crede fino ad ora che in realtà sia Dominique, che gli sta parlando, a giocare. Quando sente spingere il piede in gola, si accorge che qualcosa non ca e si sbenda.
Sofia si rivela ad Andy, che è stupefatto. L'uomo guarda poi con disprezzo Dominique, perché pensa di intuire cosa è capitato. A quel punto Sofia gli dice che ora lui farà il bravo servo, adorando e leccando le estremità di entrambe. Andy inizialmente si rifiuta in modo categorico, odia sentirsi controllato ed odia gli ordini. A questo punto Sofia lo ricatta: se non vuole che lei gli tagli ogni tipo di sostentamento finanziario, lui deve comportarsi da bravo schiavo. L'uomo deve ubbidire… ma mentre lecca ha un'erezione e Sofia non manca di sottolineare quanto sia uno stupido feticista, ad eccitarsi per il oro piedi.
Ora le due donne stanno segando coi piedi il cazzo di Andy, che è durissimo. Come forma di umiliazione, Sofia continua ad ansimare come stesse scopando. Lo vuole umiliare doppiamente, mantenendo la sua erezione semplicemente coi piedi. Poi gli dimostra velatamente che ha sempre finto i suoi orgasmi con lui. Lo stesso fa Dominique, ma lui è talmente coglione che rimane durissimo per tutto il tempo.
Alla fine, dopo aver alternato i piedi ed averlo tenuto in sospeso per la venuta, col cazzo e le palle che gli fanno male nel trattenere la venuta, Sofia concede al marito di venirle sui piedi, mentre quella troia di Dominique lecca piedi e cazzo, finché lui non copre i piedi di sperma e Dominique pulisce tutto.