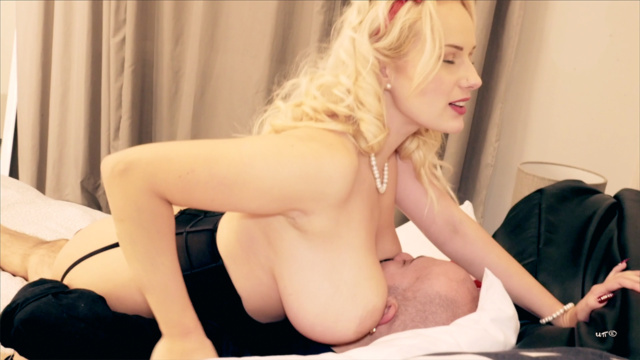 Angel is a naive so cute and young in appearance. She is religious and she go to church every Sunday. She has a SUPER SEXY body, her curves seems to explode out of her dress. However she is shy, polite, delicate. She goes tons of times even to the local priest, to understand herself, to clarify her urges about dirty thoughts, in other words: her sexual cravings.
Angel is again in the priest's house, talking to him about the milkman, about the fantasies she got on him. The man is bored and annoyed at same time. Even if he is a priest, he seems to suggest to the girl to live her sexual life without problem. This is weird for a priest… He even repeats lot of time to Angel to look him in his eyes. Finally the priest, demonstrating he really doesn't care about the discussion argument, repeating Angel she is caring about a "false problem". The girl changes her eyes, turning her expression into evil. She is aggressive, she takes the priest by his collar and bring him into the bedroom. She has got enough about all… Now she is gonna take what she wants.
Angel gets naked while the priest is on bed, without saying a word, but jerking himself. She compels the man to do that, she will squash God out from his body. Angel is too sexy and the man cannot help but have an erection. She is an evil seductress, she wants something and she takes it. She pushes the clergyman's face into her tits to make him rock hard. Then she rides him wildly; the man cums in few moments, without her permission and without she cums herself. Angel takes the dropping cum from her cunt and rubs it on priest's face. Then she compels him to stay hard, jerking his dick with her hand.
Finally she fucks him again, while the man is finishing his energies. When the dick is floppy, Angel takes him from his legs, pushing down on bed. Then she rides his face, promising to making him kick the bucket if he stops licking fast her cunt. When she finishes and cums on his face, screaming for pleasure, she leaves the man tied up on bed, ready to satisfy her eventual new sexual appetite.