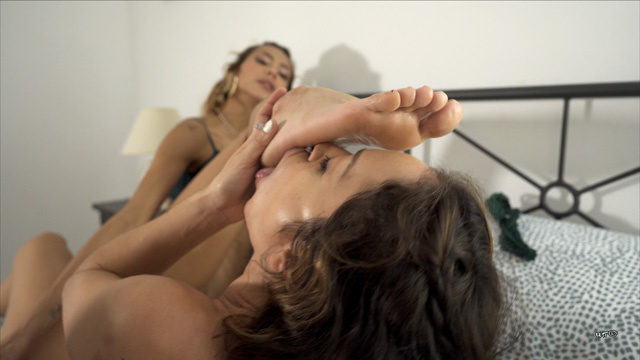 Veronica is a feminist, lesbian, snobbish and extremely rich activist. Andy interviews her for his tabloid.
Noa is Veronica's girlfriend and they don't see each other from a long time. Veronica role takes her away, travelling through continents and Noa is still searching a job and house to stay, in their native town.
The first day Andy, Veronica and Noa meet for dinner. The reporter wanna take the exact moment of their reunion, to interview Veronica about her new job. During dinner, Veronica behaves contemptuously towards Andy. She talks to Noa all the time and doesn't take the journalist into consideration. Between the two there seems to be something from the past. Andy has always had a thing for Veronica. In a recent past, she granted him some sexual dynamics, in which she dominates and humiliates him in an explicit way, keeping the video.
Veronica shows the VIDEO to her girlfriend during dinner and laughs at Andy. The man is visibly upset and apparently leaves the room, to go to bed. Actually he hides himself to spy the girls. Veronica kisses Noa and brings her into the bedroom. She is a dominant cunt and she wants to use her girlfriend, fucking her.
Veronica starts licking Noa's cunt, to see her face blessed, keeping her on edge to have an orgasm. Then she makes her licks and worship her feet, making she drool and sucking her toes and feet. When Veronica is satisfied and Noa drools all over her body, Veronica takes a 9 inch BIG strop, to fuck her girlfriend. This dick is so big for Noa and she takes it, while Veronica has got a sadistic expression on her face. She loves to see her girlfriend suffering and getting off for pleasure. She fucks her all possible position, making her suck the huge dildo, trying to push it all inside her throat. Finally, Veronica makes Noa licks her pussy until she has got a crazy orgasm.