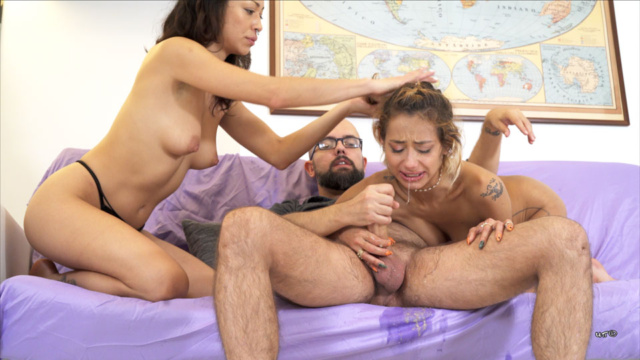 Veronica is a feminist, lesbian, snobbish and extremely rich activist. Andy is interviewing her in her house.
Noa is Veronica's girlfriend and they don't see each other from a long time. Veronica role takes her away, travelling through continents, and Noa is still searching a job and house to stay, in their native town.
The first day Andy, Veronica and Noa meet for dinner. The reporter wanna take the exact moment of their reunion, to interview Veronica about her new job. During dinner, Veronica behaves contemptuously towards Andy. She talks to Noa all the time and doesn't take the journalist into consideration. Between the two there seems to be something from the past. Andy has always had a thing for Veronica. In a recent past, she granted him some sexual dynamics, in which she dominates and humiliates him in an explicit way, keeping the video.
Veronica shows the photos/videos to her girlfriend during dinner and laughs at Andy. The man is visibly upset and apparently leaves the room, to go to bed. Actually he hides himself to spy the girls. Veronica kisses Noa and brings her into the bedroom. As the girls are unaware of his presence, the man introduces himself in the bedroom, putting a pair of headphones on her. The headphones are connected to his cellphone, as he is running on a mental control program. Veronica opens her eyes looking right in front of her, with a robotic look in her eyes.
The next morning Noa wakes up and enters the living room, when she find out Veronica on her knees, sucking Andy's dick. The girl is emotionally destroyed, and asks Veronica what it's going on, why she is betraying her, with a MAN ?!?!? Veronica turns around and answer: "Now I understand I'm just a stupid slut. I learned that I was born to please men. Only this, in my life… and this is how I want to be.". It is evident that Veronica is now mind controlled. Andy now blackmails Noa: is she want Veronica come back to normality, she must do all he wants, without any objection. The insane idea Andy is having is to fuck Veronica's mouth, then her asshole, right in front of her girlfriend Noa. She is going to help him in that.
Now they are all on sofa, Andy ordering Veronica to suck his dick, while Noa is grabbing her hair on back and push Veronica's head down dick when Andy orders her to do. He fucks her face enjoying to count seconds she takes it down, as strokes she is doing every time she have her nose on his balls, all his dick length inside her throat. Then he tells Noa to push her girlfriend head up and down his dick with her feet. She musts do it and she does. Veronica is visibly in difficult to do that, but that is not enough to punish her properly.
He now makes Noa getting on knees beside him, to push her head again with hand. Veronica now starts vomiting all over his dick. She cannot help but vomit again and again, as Andy is getting so excited from this. He fucks her skull crazy, helped by Noa, while Veronica is throwing up all her stomach on his balls and floor. Again he makes Noa pushes her head with feet, while Veronica is fucking herself her throat, driven from his mind control, even more hard then Noa and Andy. She is now a totally crazy bitch.
Andy is now ready to put his dick inside her asshole. He orders Veronica to lick his balls, Noa watching, then he puts without any lube or training, all his dick inside her asshole, hard pounding her. Veronica moans in pleasure, while her eyes are asking help to her girlfriend Noa, that was worried for all action, disgusted as well, cannot help but doing all Andy is ordering to have her girlfriend back to normality. He opens Veronica's ass in different position. As one of last humiliation he wants she impale herself on dick. She does while Noa musts lick her cunt, getting so close to the action. He humiliates the 2 lesbians, but they cannot do anything.
Finally, Andy wants to cum in Veronica's ass, then he orders her to expel the cumshoot all over Noa's tits. Finally Veronica licks sperm from her tits. Now this 2 fucking snob received the proper castigation.