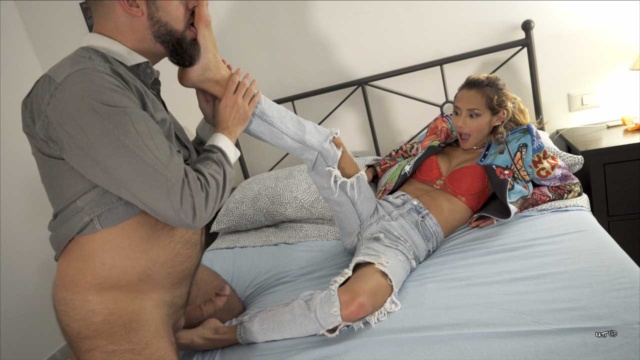 Veronica is a feminist, lesbian, snobbish and extremely rich activist. She has to be interviewed for an article by Andy.
Noa is Veronica's girlfriend and they don't see each other from a long time. Veronica role takes her away, travelling through continents, and Noa is still searching a job and house to stay, in their native town.
The first day Andy, Veronica and Noa meet for dinner. The reporter wanna take the exact moment of their reunion, to interview Veronica about her new job. During dinner, Veronica behaves contemptuously towards Andy. She talks to Noa all the time and doesn't take the journalist into consideration. Between the two there seems to be something from the past. Andy has always had a thing for Veronica. In a recent past, she granted him some sexual dynamics, in which she dominates and humiliates him in an explicit way, keeping the video. Andy was cheated on this point.
Veronica shows the photos/videos to her girlfriend during dinner and laughs at Andy. We can see now what's happened few months ago, directly from the scene stolen from Veronica's cellphone.
Veronica has brought Andy into her bedroom and the man starts licking her feet like a princess, viciously worshipping them. Veronica laugh at him, assuming he is a fetish freak, getting so hard for foot licking. Touching him with her feet, she sees his dick is so hard. She alternates foojob, to foot worship, while she makes Andy lick and suck her toes, at same time she teases him, with her skilled feet, up and down his dick. While she is doing that, she is filming all, as Andy is now incapable to understand the situation and ask her to stop it. She is preparing that video to laugh at him with her friends. Andy is unaware and he keeps licking feet, masturbating his dick. Andy fucks Veronica's feet, then passed again to lick them.
Veronica always keeps him on edge, without allowing already to cum on her feet, demonstrating he's a feet addicted guy. At the very end, Veronica sucks his dick through her feet, then orders him to cover her soles in sperm. Andy cums all over her amazing small and soft wrinkled soles. Now Veronica has got the prove of his secret, she can share it with her friend, ridiculing Andy all times she wants to do that, just for laughing.