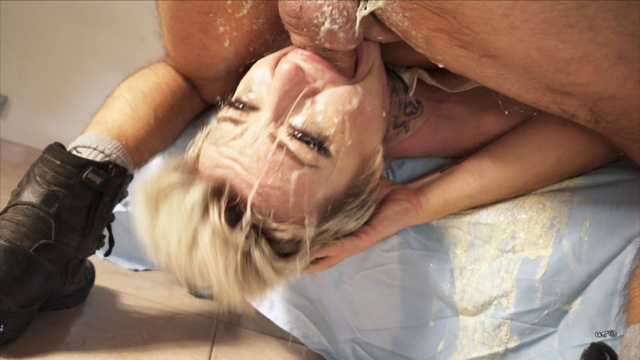 Andy and Bella parents get married old age. They become stepbrother and stepsister very late, Bella was 15 and Andy 35 yrs old. Bella is living with Andy now, they are 18 and 38. Bella was always been trying to seduce Andy, as she has a thing for him. One day she comes back from shopping, while Andy is relaxing on sofa, deeply. She whispers two times his name, but he doesn't answer. So she laugh and come closer to him, touching his dick inside his panties and then kissing it. Andy wakes up and he is astonished. He gets mad and start to yell against Bella.
The day after, Bella is talking with her best friend Tabitha. She probably has a thing for Bella and she is a butch lesbian. Bella is probably telling Tabitha that her stepbrother tried to seduce her the day before. Tabitha is disgusted… when Andy comes back from his work – Andy is a police officer. Bella leaves the room, Andy and Tabitha stay alone. As Andy sits on sofa, Tabitha removes her boots and starts to tease Andy with her barefeet on his dick.
Andy is astonished and he asks what's going on. Tabitha keeps doing, when Andy puts an hand between her legs. Tabitha pushes his hand away, starting yelling he is a pervert and he is gonna report him to internal police office. The reason?  All occurred between him and his stepsister. Andy tries to explain Bella was the first to touch him, but Tabitha is so hateful with him (actually with all men), that she doesn't wanna listen any reason. Andy keeps the calm and he proposed her a deal: he knows she doesn't have job, so he can transfer an high amount of money on her account. She musts forget about all and block Bella from her phone, without see her anymore.
Tabitha seems to accept but she wants to see the transfer on phone. Actually Andy imagined all this. He has got on phone a mind control program, experimental on police office to make criminals confess. Tabitha takes a fast look to her phone, connected to Andy's application, and she is fucked. She is turned in a robot in a second.
Now Andy takes her by hand, and orders her to undress. Than he said her to repeat he wants to report him, then no. She said all he wants her to say. Now he says her to open mouth and he sticks his dick inside, taking her from hair and fucking her face slowly and constantly. The girl executes and starts to drool like a slut. He orders her now to say "aaaaaa", so when he fucks her throat she produces ridiculous gag sound. he is humiliating her, repeating if she wants to report him.
He takes fun of this proud butch, reducing her into a cheap slut. Then he makes her sit beside him and fucks her throat even harder, using his hands and his legs to kicks her head from behind. Even when she vomits all over his balls, he keep fucking hard and crazy fast. He doesn't stop even while she vomits, pushing dick in the same moment inside. He ridicules her counting the time she go up and down, making her reaching 10 with dick inside throat, promising he is leaving her, but then keep fucking even harder her face and skull. When he has got enough he slap her face, spitting on it.
Now he orders her to get her head upside down, and he crazy fucks her throat, making her own face covering in saliva and vomit. As final humiliation, he fucks again her throat on her knees and finally, cums inside her throat, while she is beside him. She cannot swallow for the huge amount of sperm, spitting it and vomiting again on floor. For that reason he punishes her with final throat fuck, and at very end he moves her head to say yes, when he asks is he's her slut NOW !! ahahahah